Improve your Nutrition: Celebrate National Nutrition Month®
National Nutrition Month®, sponsored annually by the Academy of Nutrition and Dietetics, celebrates its 50th year in 2023. During the month of March, make a commitment to learning more about good nutrition and living a healthier lifestyle.
The average American diet, high in processed meats, sodium and sugar; low in nuts, seeds and omega-3 fats, costs Americans $50 billion per year in healthcare for diet-related heart disease, stroke, type-2 diabetes, and certain cancers, according to the National Institutes of Health (NIH). It can be difficult to make the right food choices for our individual needs, especially with conflicting messages about food and diets in media and online that are not necessarily science based.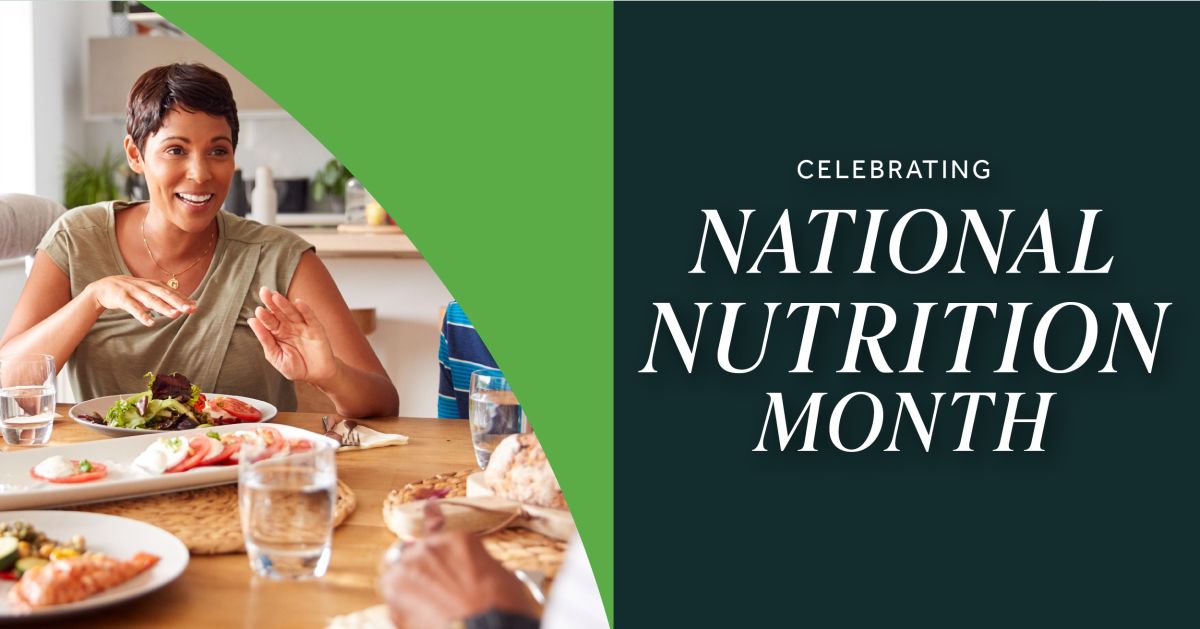 Expert Nutrition Tips and Resources
The Academy of Nutrition and Dietetics, which certifies Registered Dietitian Nutritionists as medical professionals, offers inspiration to make important diet changes and to celebrate National Nutrition Month® at its website, EatRight.org. There, you can find many ways to fuel yourself and your loved ones in all stages of life.
Recipes and advice for shopping and meal planning
Diet and lifestyle information for the management of many chronic health conditions (from allergies to heart disease)
Nutrition for pregnancy and babies
Physical fitness ideas
Tips for involving the family in making meals together, and so much more.
Start creating new healthy habits with these tips for celebrating National Nutrition Month® in March:
Commit to trying a new fruit or vegetable each week during National Nutrition Month®.
Give family members a role in meal planning and let them pick out different recipes to try.
Plan to eat more meals together as a family during National Nutrition Month®.
Explore food recovery options in your community.
If you watch TV, take breaks during commercials to be physically active.
Practice mindful eating by limiting screen time at mealtime — including phones, computers, TV and other devices.
Try more meatless meals — choices like beans, peas and lentils are versatile plant-based protein sources that work in a variety of dishes.
Let everyone help with food preparation — a skill for people of all ages. If you have kids, there are age-appropriate tasks they may enjoy learning how to do.
Bring out the flavors of food by trying new herbs, spices, or citrus fruit like lemon or lime.
To find a provider to help you life a healthy lifestyle call us at 307.856.4161 or 307.332.4420 or visit us at SageWestHealthCare.com. We look forward to helping you live your best life through nutrition.
(Copyright info: https://www.eatright.org/about-national-nutrition-month)
Read All Posts