SageWest Staff Spotlight – Kevin Anderson, Senior Maintenance Mechanic
Introducing Kevin Anderson, Senior Maintenance Mechanic at SageWest Health Care. From maintaining boilers and medical equipment, to moving snow and fixing beds, Kevin finds joy in the many skills required to do a little bit of everything, affecting quality care and patient experience available at SageWest.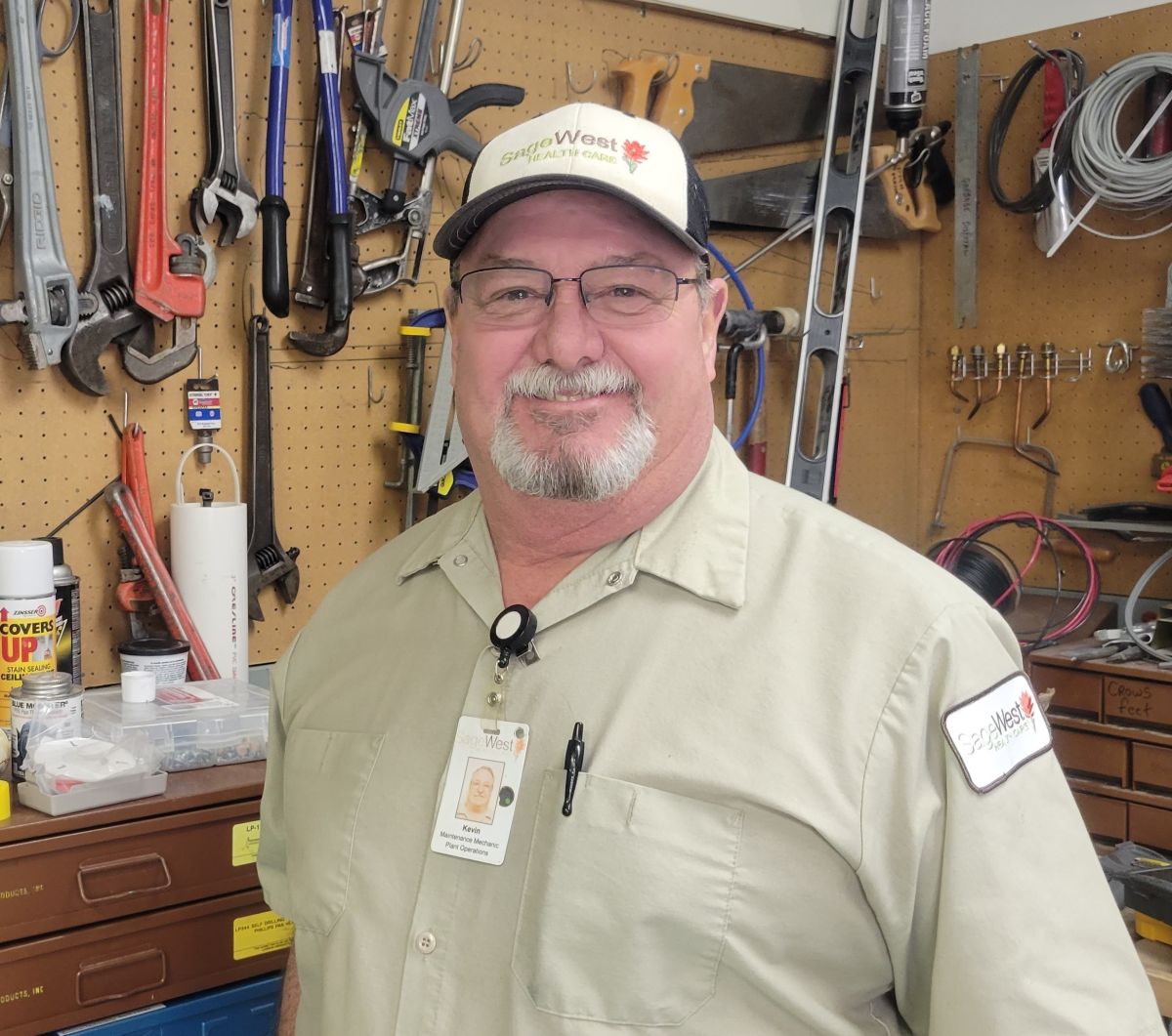 Nearly seven years ago, Kevin brought 25 years of varied maintenance experience with him to SageWest. "I spent years traveling all over the United States working on pipelines, underground utilities and doing dirt work," he said. Eventually, Kevin was ready to return home to Wyoming, driven to become involved in the community he considers home. "When I started at the hospital, a job in environmental services (EVS) was available. It was a job I hadn't done before, so I thought I would give it a try!" Kevin enjoyed 1 ½ years in EVS before he transferred to maintenance, where, for the past 5 months, he has enjoyed using his experience and increasing his skillset.
Growing up in Colorado and then Wyoming, Kevin learned a little bit of everything from his father. "He was a jack of all trades on our ranch," Kevin said. Most influential was the work ethic he developed through childhood, to always do his best work and, "If you're not 10 minutes early, you're late! I learned a lot from my dad."
In working maintenance, the biggest challenge is keeping up with demand. "There are a lot of people here. Lots of things need to be done and everyone is a priority," Kevin explained. "Plus, there are daily activities I need to manage. But I like all of it!"
Opportunities arise for Kevin to help patients with small things that make their stays better, like fixing a TV or hospital bed. It's nice to see them, to go in and help," Kevin said. He even helps patients and visitors stranded in the parking lot. "Once, I found an older gentleman looking around his car in the snow, so I asked how he was doing and he showed me his flat tire," Kevin said. "He didn't know he had a jack and spare tire under his trunk, so I showed him how to find all the equipment and I changed the tire for him," Kevin has even provided a jump or a ride to patients who needed a little extra help.
Kevin embodies the spirit of community helping community, recognizing that a job well done affects those around him. "Every member of my family has been cared for at SageWest, including my 88-year-old dad and 87-year-old mother," Kevin said. "And my daughter was a nurse at SageWest for 10 years. She has told me great stories of her time working here." With a fondness for people driving his work, Kevin's responsibilities are a component of the overall quality of care our patients can expect from SageWest.
When Kevin is away from the hospital, he enjoys golfing and shooting skeet with his grandchildren, as well as camping, hunting and fishing in the great outdoors of Wyoming.
Thank you, Kevin, for your dedication to keeping our facility running smoothly so we can provide the best care possible for our patients. We are proud to have you on our team!
Read All Posts