SageWest Health Care to Host Hiring Event on Wednesday, October 25
For Immediate Release
Contact: Lindsey Anderson
Lindsey.anderson@scionhealth.com
307-857-3405/307-335-6481
MEDIA ADVISORY
SageWest Health Care to Host Hiring Event
on Wednesday, October 25 Provides Career Opportunities for
Clinical and Non-Clinical Positions
This in-person event will offer potential sign-on bonuses and introduce candidates to the people who make SageWest Health Care a leader in care for its communities.
WHAT: SageWest Health Care will host an in-person hiring event that may include open interviews for a range of clinical and nonclinical positions from 10 a.m. to 4 p.m. Wednesday, October 25, 2023 at the SageWest Lander campus. Candidates will have an opportunity to meet the staff, learn about working in the hospital, hear about opportunities for career growth, and interview for a job. Sign-on bonuses may be offered for some positions. Candidates can learn more about the event and apply in advance at: jobs.scionhealth.com
WHO: Registered Nurses in various departments, Lab MT or MLT, Phlebotomist, Certified Medical Assistant, Admissions Clerk, Administrative Assistant in Imaging and Human Resources, Materials Management Clerical Specialist and Physical Therapist are some positions that will be a focus of this hiring event. Candidates in these roles and others who are seeking to take on the next challenge in their careers are invited to attend in person.
WHEN: Wednesday, October 25, 2023, 10 a.m. - 4 p.m.
WHERE: SageWest Health Care Lander campus, 1320 Bishop Randall Dr., Lander, Wyoming
WHY: The event is part of the commitment that SageWest Health Care has made to its community to provide high-quality care by identifying and recruiting the best clinical and non-clinical healthcare professionals possible.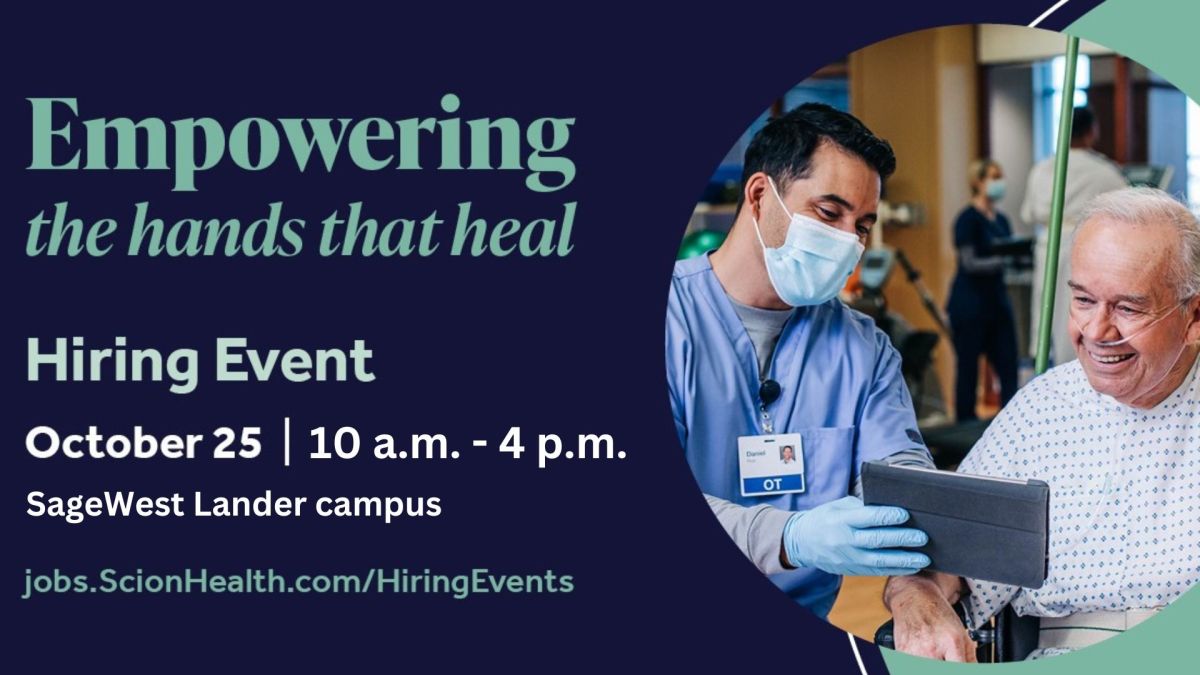 Read All Posts